TECHNOPLANTS S.r.l.
Booth No.: 1N42
Website: www.techno-plants.com

Company Introduction:
TECHNOPLANTS a specialist for the automatic end of line, cutting, winding, stacking and packing, is now specialized in complete airlay lines. The MULTIline card produces mats with any fiber; the combination of Former, Precard and Card allows to produce fabrics with different characteristics. The thermobonding MULTIoven operates from high-speed ADL to shoddy recycled fiber mats, with a constant thin air distribution for all the configurations. Customers can make tests in our showroom 2.8 m wide.
Products:
Airlay System
The widest all-around performances in the airlaying sector:
Synthetic, artificial and natural fibers
Virgin, recycled and regenerated fibers
Fiber deniers from 0.9 to 300 dtex
Fiber lengths from 5 to 80 mm
Fabric weights from 80 to 4500 gsm
Bicomponent fibers, fusible fibers or thermoplastic powders as binder
All with one machine. No mechanical adjustments, no downtimes to pass from one product to another.
The machine is composed of three sections which can work independently or together: Former - Pre-Card - Airlay Card.
Thermobonding Oven
COMPLETE MODULAR SYSTEM
The machine has a symmetrical configuration, which allows:
Easy cleaning and maintenance from both the sides of the oven.
Most uniform web quality along the working width, for all the different speeds of the air circulation fan.
For each half heating section (1000 mm length) it is possible to adjust the air flow direction:
from top to bottom
from bottom to top
The cooling section can operate with volumizing effect.
Automatic adjustment of the working width and thikness from touch panel.
Heat recovery system!
CUTTING UNITS
Technoplants designs and produces many types of longitudinal and cross cutting systems to manage all type of nonwovens.
In order to simplify and to reduce dimensions, our combined system, slitting + cross cutting, can be integrated into our end of line, mainly for wadding and high volume products.
Technoplants can also provide entry level cutting units designed to meet the most stringent budget while still providing a quality, well-working equipment.
TECHNICAL FEATURES
Working width up to 8000 mm
Weight 30 - 6000 gsm
Thickness 0.5 - 300 mm
Production speed up to 60 m/min
Cutting frequency up to 30 cuts/min
WINDERS
Technoplants high speed winders, with or without cardboard cores in conjunction with our combined slitting and cross cutting units, offer the ability to automatically cut, thread, wind and doff a very wide range of nonwoven products.
Material ranges start as low as 40 gsm and go up to nonwovens well beyond 1.000 gsm needle punched, thermobonded, chemical bonded or calandered bonded.
Technoplants can also provide a whole series of intermediate or entry level machines and even used machines, depending on customers requests.
STACKING EQUIPMENT
Technoplants pad stacker has been designed to take the felt sheets coming from the cutting unit and lay them one on top of the other on a collecting conveyor.
High precision stacking to meet the strictest tolerances.
Continuous stacking cycles even during the discharging of the full pile of felt pads.
Setting of a predetermined number of sheets by control panel.
Double position stacking units to meet the highest production speeds.
Centered or side stacking with respect to support pallet.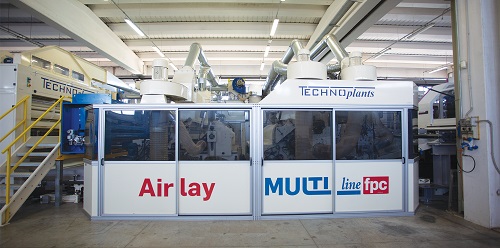 (AIRLAY CARD)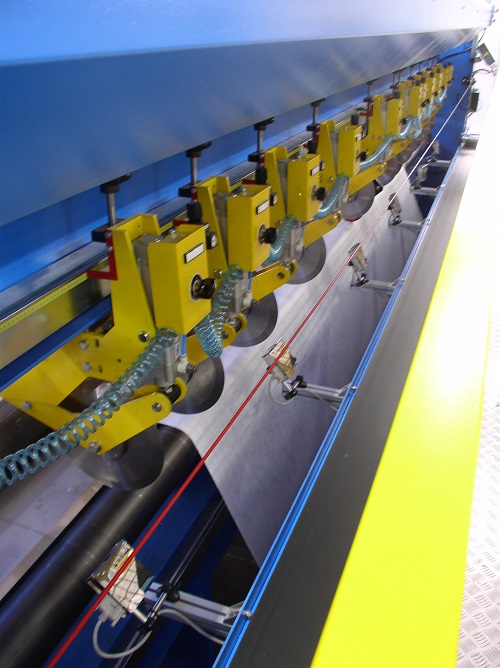 (CUTTING UNIT)
(PACKAGING SYSTEM)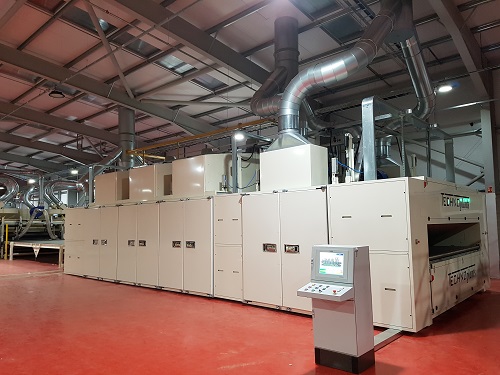 (THERMOBONDING OVEN)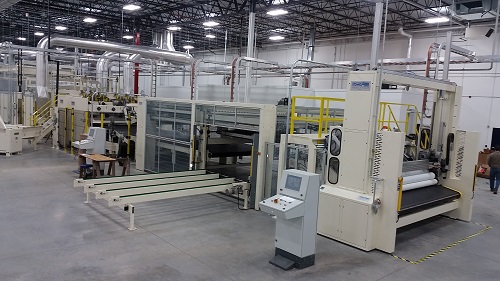 (WINDER AND STACKER)