Asia's Largest Nonwoven Exhibition – ANEX/SINCE 2015 was succefully held on May
Asia Nonwovens Exhibition and Conference (ANEX) and The 16th Shanghai International Nonwovens Conference & Exhibition (SINCE) was successfully held at Shanghai World Expo Exhibition and Convention Center, China from 13 -15,May, 2015.

Attract 20000 Professional Visitors from 55 Countries!
The three-day exhibition totally attract 20000 professional visitors from 55 countries including China, Korea, Japan, India, Singapore, the United Kingdom, Germany, Belgium, Italy, Switzerland, Turkey, Brazil, etc. These visitors covered the industry of composites, hygiene, medical, wipes, geosynthetics, filtrations & separations, electronics, energy, automotive interiors, apparel, interior fabrics, packaging, etc.

Wonderful Events Onsite: Technical Presentation & New Products Release
The show with space of over 25,000 square meters has attracted 373 leading enterprises both domestic and abroad including Freudenberg, PGI, TWE, Georgia-Pacific, AVGOL, FIRST QUALITY, RUIGUANG, Toray, Vilene, ASAHI KASEI, Fibertex, Nanliu, JOFO, JNC, Xinlong, Jinlong, HASSAN, MOGUL, LENZING AG, HB FULLER, INVISTA, AUTEFA, ANDRITZ, A. CELLI, REIFENHÄUSER, Caligen Foam and others. The exhibits covered nonwoven roll goods and converted products, nonwoven production machinery, auxiliary equipment and accessories, and nonwoven raw materials.
During the exhibition, exhibitors shared new products and advanced technologies.
12 enterprises with the leading technologies shared technical presentation for buyers. These topics covered Chinese Consumers and Hygiene Products, Adhesives Solution for Hygiene Products, Design and Development of Filter media, Skin Friendly Fiber for Hygiene Application, Advanced Wiping Solutions and others.
The speakers included Nicolas Komorek (COO, Filtertechnik Europe GmbH & Co. KG), Shayda Rahbara (Bussiness Development Manager, Hygiene, Asia Pacific Lenzing AG), Dr. Jennifer Jensen Austin (Senior Staff Chemist, ExxonMobil Chemical Company), Jay Forcucci (Sr. Director Product Management - Filtration Segment, PGI), Wendy Warner (Senior Director of Global Product Management-Wipes Segment, PGI), Andy Swain (Head of Global Product Development, Henkel), Xie Yu (Marketing Manager of Hygiene Business Asia Pacific, Henkel China Investment Co., Ltd), Jan O' Regan (Director of Strategic Initiatives, Cotton Incorporated), Yutaka Maehara (Leader for Hygiene and Medical, Asia Pacific Application Technology, The Dow Chemical Company), Jakie deGroot (Global Technical Strategy & Innovation Leader, The Dow Chemical Company), and Evan Yuan (Technical Manager of Hygiene, Asia Pacific from H.B Fuller (China) Co., Ltd).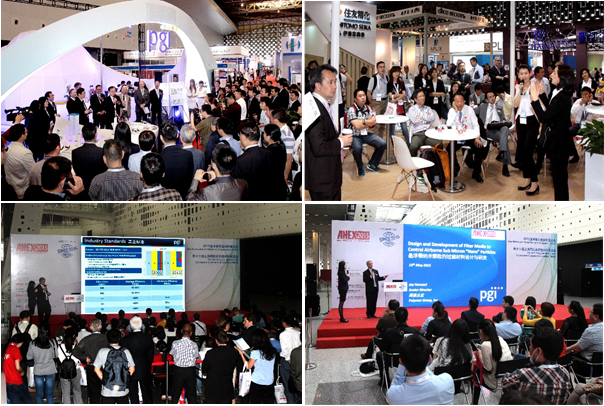 Global Nonwovens Summit (GNS):
Analysis of Global Industrial Trends Guiding You Right Directions!
Global Nonwovens Summit (GNS), launched by ANFA, EDANA, and INDA was also successfully held on 14 May, 2015. Mr. Wang Yanxi, the chairman of ANFA, Mr. Hideo Tsuchiya, the Secretary General of ANFA, Mr. Pierre Wiertz, the president of EDANA, Mr. David E. Rousse, the president of INDA, Mr. Rolando Dominguez, the former PGI GM of Latin America, Dr. Osamu Yaida, consultant of ANNA gave wonderful speeches at the seminar and discussed about the latest market trends, advanced technology and innovative applications of nonwoven materials in Asia, Europe, North America and South America. They also analyzed the current status and development of international standard in nonwoven area, and guided right directions for Chinese nonwoven material enterprises to adapt to current situation under this new normal.