Fiberpartner has been nominated, together with FENC (Taiwan) for RISE® Innovation Award with its BicoBio staple fiber. The shortlisted candidates will be displayed at the RISE® Conference taking place from September 26-27, 2023, at North Carolina State University in Raleigh, NC.

Selected for RISE Innovation Award!

We have been chosen as one of the top four recipients of the prestigious RISE® Innovation Award. This honor recognizes pioneering advancements in the realm of nonwovens, celebrating groundbreaking solutions that harness cutting-edge science and engineering to tackle challenges and push the boundaries of nonwoven applications.

Mark your calendars for September 27, 2023, as the grand award ceremony will take place at the North Carolina State University. We're grateful for the partnership between Fiberpartner and FENC that among others led to the creation of BicoBio – a revolutionary bicomponent fiber with an eco-forward core sheath design. Crafted from materials with a minimal carbon footprint, BicoBio stands as a beacon of sustainable innovation.
This extraordinary fiber boasts versatility, seamlessly integrating into various nonwovens technologies for a multitude of applications. BioBased PE, derived from sugarcane, boasts a remarkable negative carbon footprint. Additionally, our pioneering additive technology, PrimaLoft® BioTM, enables BicoBio to biodegrade in environments where conventional plastics often persist – from landfills to ocean waters.

To delve deeper into the world of BicoBio fiber and our exhilarating nomination, feel free to reach out to Thomas Wittrup at Fiberpartner. He can be reached at +45 2025 6509 or via email at twt@fiberpartner.com.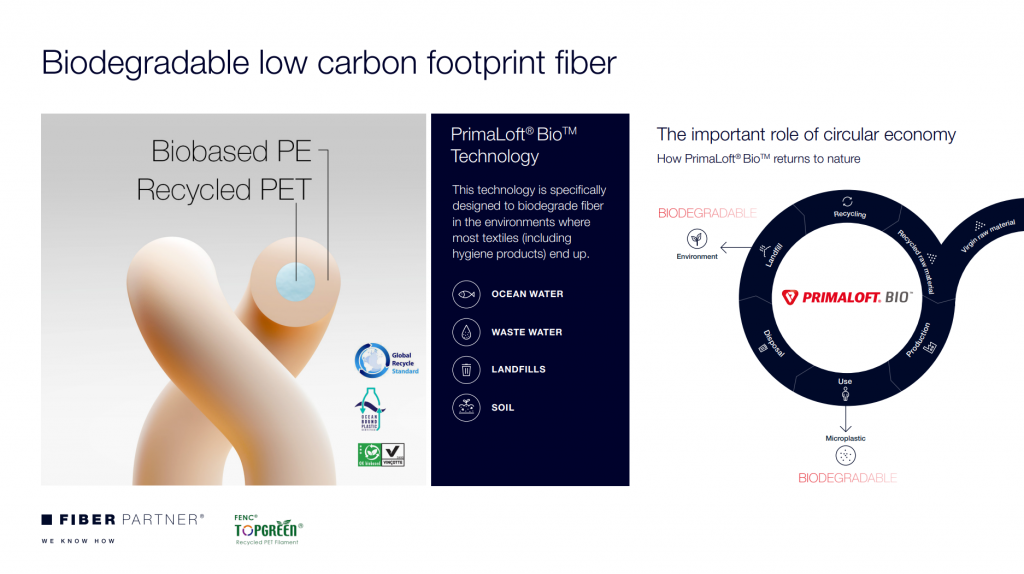 *Biodegradable:
93.8% biodegradation in 646 days under ASTM D5511 conditions (landfill environment); 87.9% biodegradation in 1953 days under ASTM D6691 conditions (marine/ocean environment). 47.4% biodegradation in 481 days under ASTM D5210 conditions (wastewater environment); 29.9% biodegradation in 196 days under ASTM D5988 conditions (Soil environment). The stated rate and extent of degradation does not mean that the product will continue to degrade.